Attitude
Our overriding objective is to establish a working ethic, excellent image and professional approach expected of us in managing the construction process for our customers. We feel our customers have the right to expect this of our industry. We achieve this for our customers through our commitment to the following:
Being professional in everything we do
Being straightforward to deal with
Being flexible and non-adversarial in our approach
Being customer focused
Being respectful of our customers' property
Adding value to projects where we can
Delivery
Our time within the commercial sector has taught us how to manage the construction logistics, methodology and supply efficiently to ensure productivity is maintained throughout the build.
We employ over 50 carpenters and so we are able to commence your project when you are ready. Our experience within the building industry, therefore, is extensive with qualified tradesmen with expertise in all areas of the industry.
Our systems ensure that all concerns are dealt with at an early stage so that there are no surprises throughout the build.
This enables us to guarantee your project is completed to the programme.
Cost
We are so confident in our teams' building ability that we offer a Fixed Price Contract for the work and guarantee this cost will not increase unless agreed changes are made to the design.
We offer regular reports showing progress and cost tracking to ensure our customers are kept fully aware of where their project budget sits.
Quality
We guarantee to have a licensed building practitioner oversee and manage your build so you can be assured the best possible workmanship has been achieved throughout.
We manage this process through our quality assurance system which is in operation throughout the works to ensure no build issues remain. We strive for quality and even with our checklists and management reviews throughout, the person who really matters is you! We'll review all sections of the build together to make sure you're happy with what's being completed.
Our company 18 month defects period offers you comfort that we guarantee our workmanship during this time. In the unlikely event anything does occur during this time we will fix it.
Health & Safety
We are members of Site Safe, New Zealand's foremost safety association, and therefore we guarantee to ensure that your project is managed to the highest safety standards. We want to keep everyone safe and avoid any serious delays.
To do this we register with MBIE, follow our Site Safe processes and have additional inspections and reports undertaken so we know with confidence we're doing all we can to keep a safe environment for you and our team as they build your dream home.
Association Guarantees
As an RMBA Member, your project will qualify for a Master Builders Association 10 Year Guarantee to provide further security to you and your property in case of any issue.
Ask us to provide you with details when we meet.
We are also members of the New Zealand Certified Builders Association, which gives you additional cover under their Halo 10 Year Guarantee. This is outlined on their website in more detail – click on their logo below.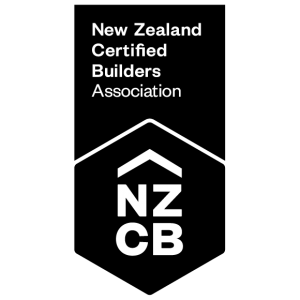 Our Building Associations
Talk To Us About Building Your Home